The widening U.S. trade deficit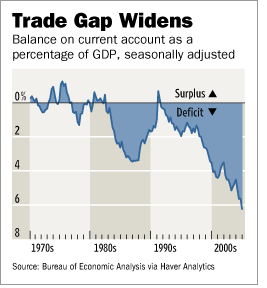 WASHINGTON (MarketWatch) -- The U.S. trade deficit widened by 2.7% in August to a record $69.9 billion, the Commerce Department said Thursday. The widening of the deficit surprised economists. The consensus forecast of Wall Street economists had been for the deficit to narrow to $66.4 billion from $68.0 billion in July. For the first eight months of the year, the trade deficit widened to $522.8 billion, ahead of last year's record pace of $457 billion. Imports rose faster than exports in August. The U.S. trade deficit with China widened to a record $22.0 billion in August, compared with $18.5 billion in the same month last year. The U.S. imported a record $26.7 billion in goods from China in August.
So what is the U.S. trade deficit? Simply stated, it's the net difference between what we sell to others and what others sell to us. But to think of it most properly, I suggest it is the amount of our national wealth we are putting into the hands of non-Americans. Approximately $800 billion per year of American wealth is being sent overseas.
Some (partially correctly) argue that a good deal of these dollars reenter the U.S. in the form of investment. However, this can be construed as selling our assets to foreign interests. People who own things tend to be legally permitted to control the terms of use of those things. Wouldn't you rather be renting from some entrepreneurial American landlord than from a Chinese government consortium?
What's the solution? It's a simple one: we need to sell more to others than they do to us. We can do this either by restricting our purchases (unlikely immediately) or by growing our exports. We can do the latter either by aggressively pursuing limited tarrifs (import duties) on our products and services or by offering products and services the world cannot live without. I'm focusing my energies on the latter.